Here is our Jan. Q&A session w/
Mark Watrous
! I am sure most of you are familiar w/ mark from his stints w/ both The Raconteurs, and (currently) w/ Brendan Benson. But alas, there is much more to this talented guy, so read on and toss some questions his way. As per usual we'll accept questions for Mark for 2 weeks, then the entire Q&A will be posted here. I love the idea of a small gift for the winner of the best question as chosen by Mark, so whomever wins will receive a something in the mail (surprise!) from both Mark and myself.
Mark grew up in Eastern Washington State playing violin, piano, guitar and drums. He helped to form the band Loudermilk (guitar/keys) in 1995 and made two LPs and one EP over the span of 8 years (American Recordings/Dreamworks Records). He also helped to form Gosling (guitar/keys) in 2003 and over 4 years released one EP and one LP (The Control Group/V2 Records). Mark relocated to NYC in 2007 after the the breakup of Gosling and since then has toured/worked with:
Craig Wedren (guitar/keys),Paul Chesne (guitar),Shudder To Think (guitar),Jeremy Fisher (bass/keys),The Raconteurs (keys), Harper Simon (keys), and Brendan Benson (guitar/keys).
As well as playing with other musicians Mark has released a few bits of solo material, one on the "Destroy All Humans! 2" soundtrack (The Greenhornes are also featured on that one) and a split 7" EP on Hidden Pony Records with Canadian singer/songwriter Hannah Georgas. He has plans to release a full-length later this year if his touring schedule with Brendan permits.
When not working on music projects, Mark also directs music videos, and does graphic design work. He recently returned from Mexico where he and his wife Jaime, were married on New Years Day.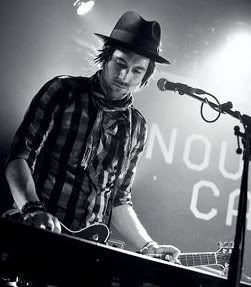 ~*~*~*~*~*~*